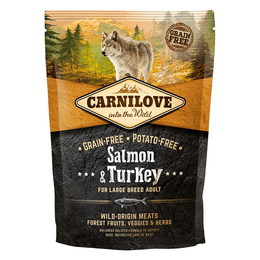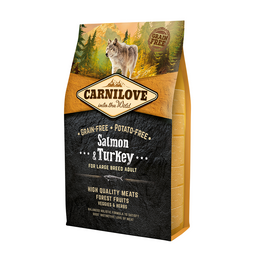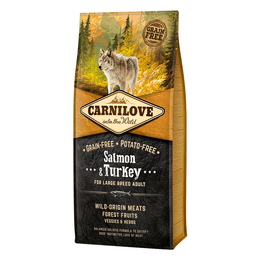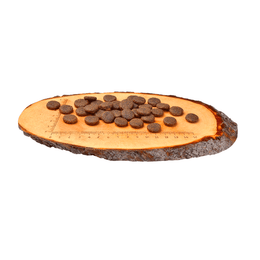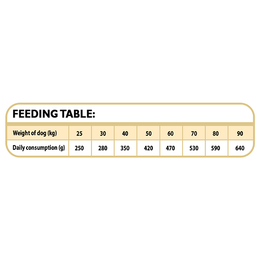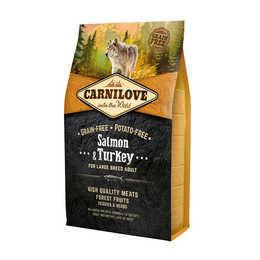 Grain-Free & Potato-Free Formula for Adult Dogs of Large Breeds (? 25 Kg). Complete Dog Food.

Carnilove Adult Salmon & Turkey has been formulated with respect for the special needs of adult dogs of large breeds to provide them with a balanced formula for strong bones
and healthy muscles, joints, and tendons.

Salmon is an excellent source of highly digestible proteins as well as omega-3 unsaturated fatty acids, which have a positive impact on mental development, the cardiovascular system, and metabolism (they reduce blood sugar levels). It also positively affects the quality and appearance of hair and skin.

Turkey is rich in digestible proteins and has high levels of trace elements, such as zinc, and also contains vitamins B3 and B6, which are critical for proper brain function, good muscle tone, and cardiovascular health.


COMPOSITION: salmon meal (25%), turkey meal (20%), yellow peas (20%), chicken fat (preserved with tapioca starch, 10%), duck meal (5%), salmon deboned (5%), chicken liver (3%), tapioca (3%), apples (3%), salmon oil (2%), carrots (1%), flaxseed (1%), chickpeas (1%), hydrolyzed crustacean shells (a source of glucosamine, 0,05%), cartilage extract (a source of chondroitin, 0,03%), brewer´s yeast (a source of mannan-oligosaccharides, 0,015%), chicory root (a source of fructo-oligosaccharides, 0,01%), yucca schidigera (0,01%), algae (0,01%), psyllium (0,01%), thyme (0,01%), rosemary (0,01%), oregano (0,01%), cranberries (0,0008%), blueberries (0,0008%), raspberries (0,0008%).
ANALYTICAL CONSTITUENTS: crude protein 36,0 %, fat content 16,0 %, crude ash 7,8 %, crude fibre 3,0 %, moisture 10,0 %, calcium 1,3 %, phosphorus 1,0 %.
NUTRITIONAL ADDITIVES PER 1 KG: vitamin A (E672) 20 000 IU, vitamin D 3 (E671) 1 500 IU, vitamin E (?-tocopherol) (3a700) 400 mg, zinc (E6) 85 mg, iron (E1) 70 mg, manganese (E5) 35 mg, iodine (E2) 0,65 mg, copper (E4) 15 mg, selenium (3b8.10) 0,25 mg.