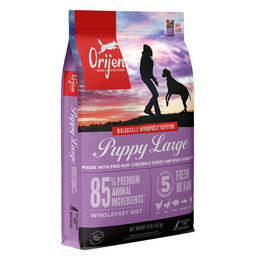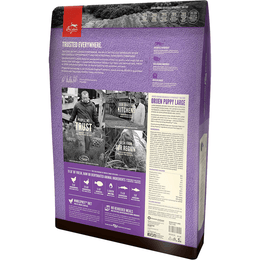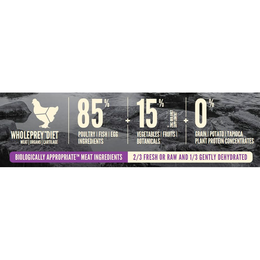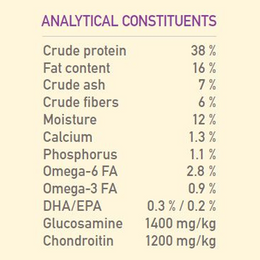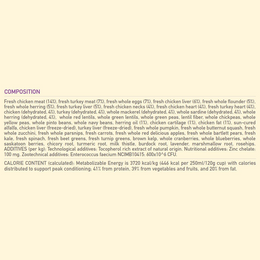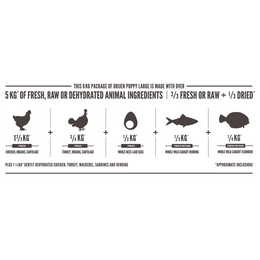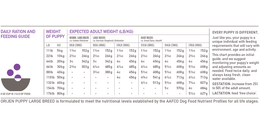 "RICH IN PROTEIN FOR LARGE BREED MUSCLE MASS AND CALORIE-LIMITED TO PROMOTE HEALTHY WEIGHT AND REDUCE STRESS ON DEVELOPING BONES AND JOINTS.

• With 38% richly nourishing protein, and a limited 20% low-glycemic carbohydrates, ORIJEN nourishes large breed puppies according to their evolutionary and biological needs.
• Unmatched by any other puppy food, 2/3 of ORIJEN meats are FRESH (refrigerated, no preservatives) or RAW (flash-frozen, no preservatives), including the top 10 ingredients.
• 1/3 of meats are air dried at 90°C from fresh chicken, turkey, and fish to create a concentrated source of richly nourishing protein to support your growing puppy.
• Nutrient-dense WholePrey™ ratios of fresh meats, organs, and cartilage plus fresh whole fish and fresh whole eggs provide a natural source of virtually every nutrient your big puppy needs.
• Infusions of freeze-dried chicken and turkey liver enhance flavor naturally, making ORIJEN deliciously tasty for the fussiest of puppies.

85% MEAT | 15% FRUITS & VEGETABLES
Fresh chicken meat (14%), fresh turkey meat (7%), fresh whole eggs (7%), fresh chicken liver (6%), fresh whole flounder (5%), fresh whole herring (5%), fresh turkey liver (5%), fresh chicken necks (4%), fresh chicken heart (4%), fresh turkey heart (4%), chicken (dehydrated, 4%), turkey (dehydrated, 4%), whole mackerel (dehydrated, 4%), whole sardine (dehydrated, 4%), whole herring (dehydrated, 4%), whole red lentils, whole green lentils, whole green peas, lentil fiber, whole chickpeas, whole yellow peas, whole pinto beans, whole navy beans, herring oil (1%), chicken cartilage (1%), chicken fat (1%), sun-cured alfalfa, chicken liver (freeze-dried), turkey liver (freeze-dried), fresh whole pumpkin, fresh whole butternut squash, fresh whole zucchini, fresh whole parsnips, fresh carrots, fresh whole red delicious apples, fresh whole bartlett pears, fresh kale, fresh spinach, fresh beet greens, fresh turnip greens, brown kelp, whole cranberries, whole blueberries, whole saskatoon berries, chicory root, turmeric root, milk thistle, burdock root, lavender, marshmallow root, rosehips, enterococcus faecium."